Approach to
Water Treatment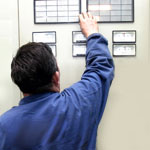 Our water management program is based on the following key approaches:
Water treatment is not just the supply of chemicals and equipment. The most effective water management programs are based on the comprehensive knowledge and utilization of consulting technology along with appropriately selected equipment, plant and chemicals. The value we bring to our clients is in the skill we apply to utilize all of these components.
Before we offer a water management program, we diligently and expertly gather and understand detailed plant technical and operational data, including past operating experiences. This enables us to develop a comprehensive program that is relevant to our client's specific application.
The most effective results are achieved by the careful development of a water management program, followed by the effective implementation and maintenance of that program.
Our ongoing program must be adjusted, say, if site operational conditions should change and the requirement for the combination of optimum technical design and practical economics is necessary for a well designed water management program.
The true test of the viability of our water treatment program is that the cost should be significantly less than the savings it achieves on a client's plant.